During five days, NOVA University of Lisbon's master's students attended an intensive workshop exploring Artificial Intelligence, Machine Learning, and Data Visualization tools for media and technology studies and design solutions development.  The workshop Designing With: Integrating Machine Learning, Artificial Intelligence and Data Visualization in Design Curricula happened from July 17 to 21, 2023, and gathered the NOVA students with master's students from Genève Haute école d'art et de design (HEAD), École Polytechnique Fédérale de Lausanne (EPFL) and from University of Applied Science and Arts of Southern Switzerland (SUPSI), this last one the university where the workshop took place, in Mendrisio, Switzerland.
The workshop was one of the phases of the project Designing With. A New Educational Module to Integrate ML, AI, and DV in Design Curricula supported by Movetia, a partnership between SUPSI (project coordination) with NOVA and EPFL, coordinated in Portugal by Prof. Dr. Janna Joceli Omena, member of iNOVA Media Lab. The schedule was divided into two moments. During the first two days, the students alternated between the tutorial Vision AI: Building, visualizing, and Narrating Computer Vision Networks, taught by Prof. Janna with the research assistant Msc. Eduardo Leite; and the tutorial Designing With AI + ML, taught by Matteo Loglio, from SUPSI.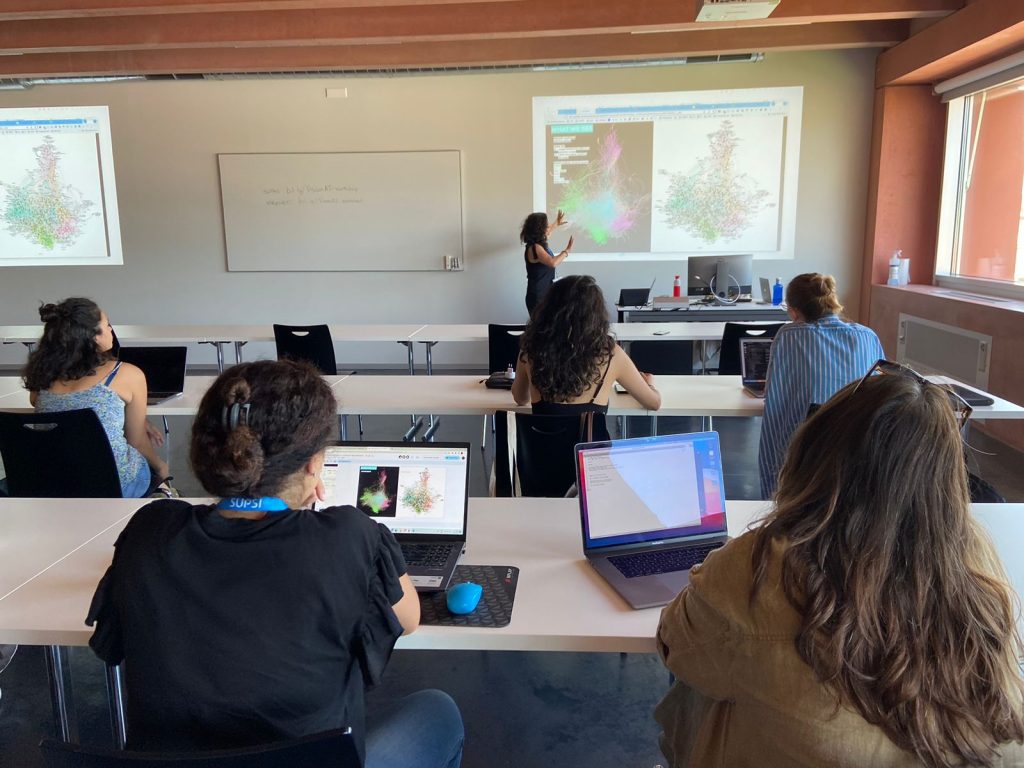 In the activity conducted by the iNOVA Media Lab researchers, the students were taught how to explore Computer Vision APIs' machine learning models for image classification for building network visualization for image collection analysis. During the SUPSI's professor tutorial, students used Generative AI Tools for design creations.
According to New Media and Web Practices master's student Naitê Proença, these activities were very important for her to discover new tools and acquire new abilities. "The workshop was an opportunity to get to know new AI and data visualization tools. I learned to generate images with Midjourney and also to generate data visualization with Memespector, Vision AI, and Gephi. Putting into practice what was explained during the workshop was a process that taught me a lot".
During the last three days, students were divided into groups in order to develop projects for solution creations for urban problems using real-time data, interactive tools development using artificial intelligence, and social phenomena studying using machine learning classification and data visualization tools.
New Media and Web Practice master's student André Matos developed an interactive tool that uses data collected from the user's location to build interactive music according to movement. According to him, the workshop was very productive. "It was an intense, inspiring, and amazing week. The workshop had an excellent structure and a sharing of genuine interest from an amazing multidisciplinary team. We were able to meet, bond, and work with students from different studying fields and were warmly welcomed. During the five days of the workshop, we deeply shared knowledge".
All the details for the workshop and the projects developed by the students during it are available on this website. For more details about the research project see: https://designingwithai.ch